Songs with a story
Welcome! Songs of Moria is a songwriting project with refugees that took place in Lesbos. Get to know more about the project here. Do you want to order the album? Click here and send me the number of albums you want and your address. Do you want to have it shipped outside of the Netherlands? Contact me so we can arrange this.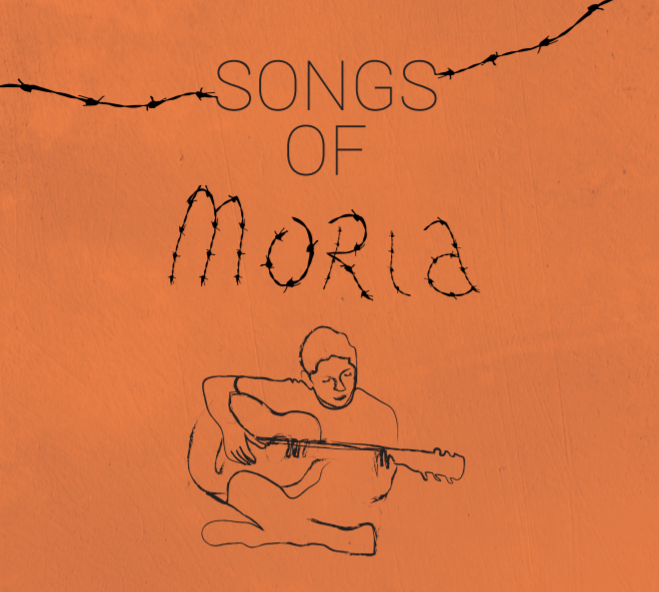 Moria
Moria is the biggest refugee camp on the island of Lesbos. In this former prison, people are accommodated when they arrive and have to wait months, sometimes years before they get an answer to their asylum application. The circumstances are outright poignant. It's not for nothing that Moria has been in the news quite a few times the last months: The Guardian, New York Times, Euronews.
Connect by Music
Fortunately, there are positive developments going on as well. A lot of Non-Governmental Organizations are active on the island Lesvos, including 'Connect by Music'. This Dutch NGO provides music lessons and -therapy to refugees in and outside the camps. The music lessons are taught by Greek teachers, who get paid. Volunteers are also active in the organization. Click here to see what they do.
The album
Songs of Moria consists of 10 songs that are written and recorded with unaccompanied minors and adolescents aged 15 to 20 years. Unaccompanied means that they left their home country without their families. This vulnerable group stays in screened sections in the camp. The boys were free to write about what they wanted and mostly sang or rapped in their own language.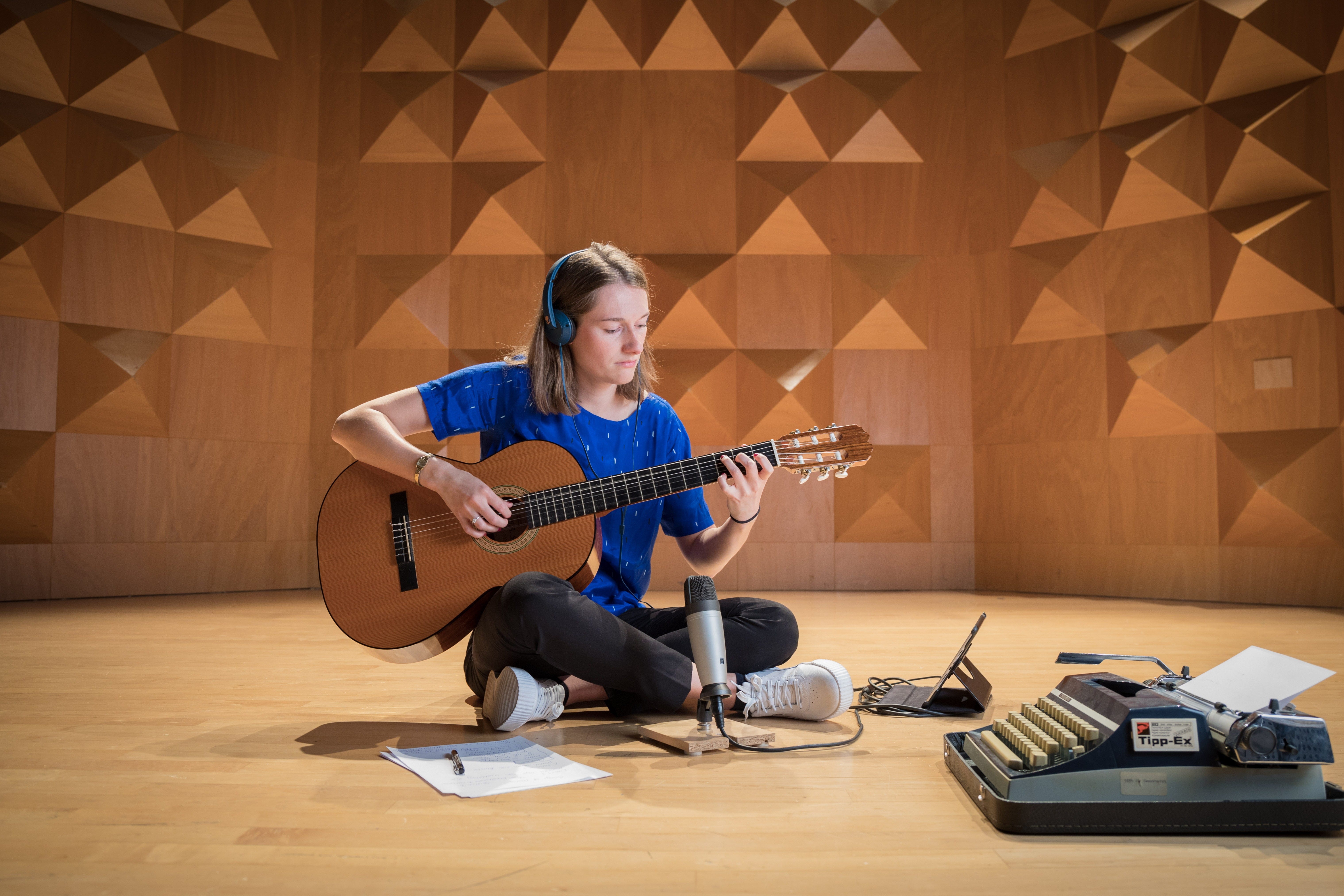 More about
Songs of Moria
What is songwriting?
All the information on this site is about the songwriting project in Lesbos, but what is songwriting? And what is a song? The meaning of a song is often culturally loaded. But, the common thing about songs is that they contain information. In the form of lyrics and music, songs tell stories and express feelings (Baker, 2015). Songwriting in general is the writing of songs. In a therapeutic context, songwriting is an intervention that is used within music therapy. Songwriting is then applied through a therapist-client relationship with a therapeutic goal. Goals could be processing trauma, working on self-reflection, self-esteem or self-expression. Within my project I wanted to create a space where refugees could express themselves and stimulate collaboration in the group process.


Baker, F.A. (2015). Therapeutic songwriting: Developments in Theory, Methods, and Practise. Hampshire: Palgrave Macmillan.
How it started
The idea to start a songwriting project was born when having a walk through a Dutch forest after returning from Lesbos. I realized that writing makes me happy. I had also just returned from doing voluntary work with Connect by Music, where I tried songwriting with a colleague. This session with five girls worked out really well and we saw the fun and contact grow within the group. During the walk I asked myself: "What if I could go back to write songs with the people in the camp? So that they could have a place to express themselves?". I felt in everything that this is what I wanted to do. The idea of continuing to study after the bachelor was always an option for me and now I had a plan to subscribe for the master of music therapy.
The process beforehand
I was accepted at the ArtEZ University of the Arts in Enschede and learned about how to set up research. I chose to write songs in 'single sessions', because from experience I knew that making appointments in a camp is difficult. If I would have asked the songrwriters to come back the next day to finish the song, half of them wouldn't have been there because of sudden other appointments (doctor, lawyer, foodline, classes) or because of simply forgetting it. Making it a success experience for the songwriters was important to me. So, it had to be finished by the same group on the same day.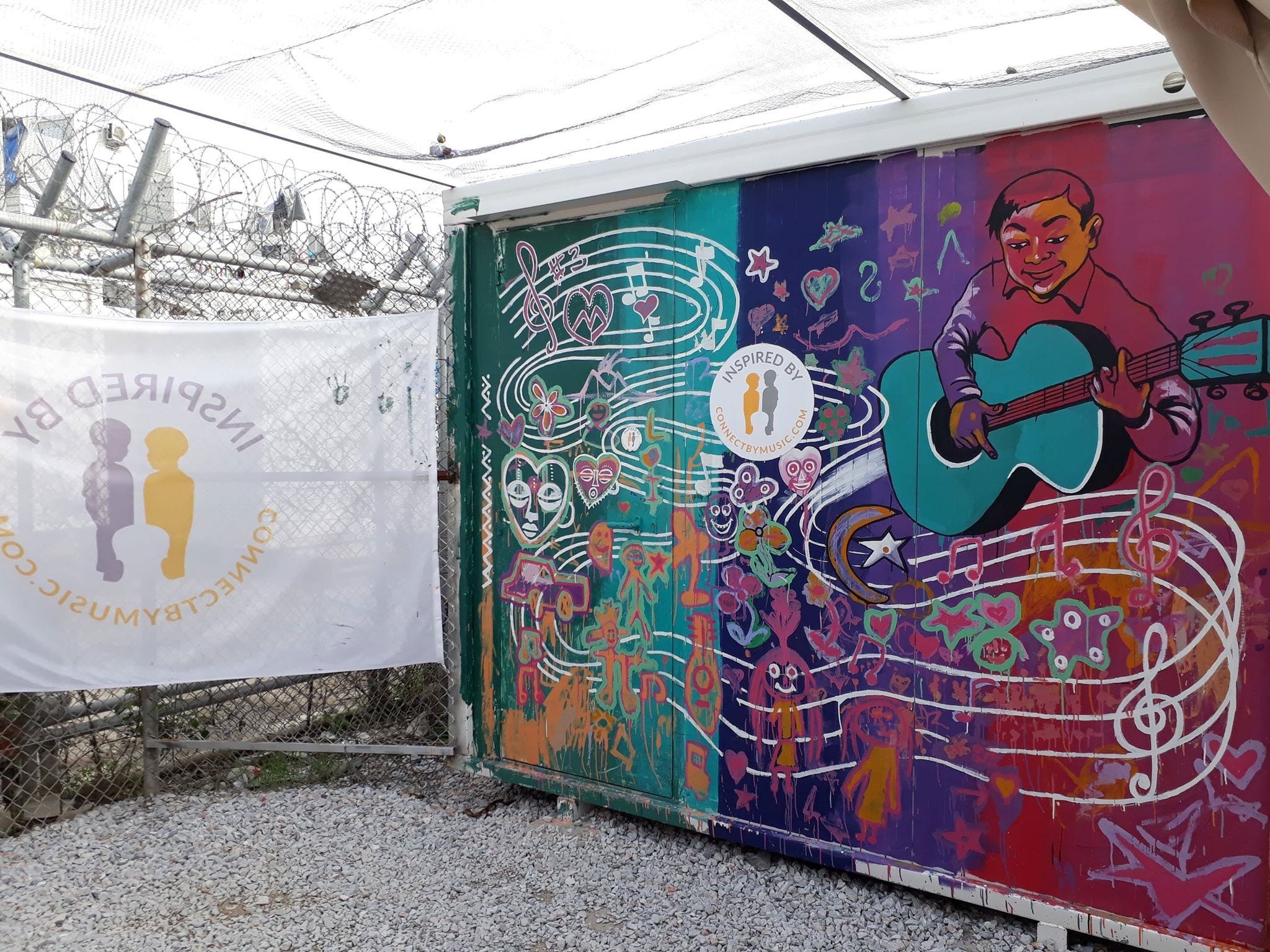 The songwriters
The organization Connect by Music is active in various places on Lesbos. The initial idea was to write songs with three groups in these various places: men, women and adolescents. Due to many practical reasons, this was too complicated. Therefore, it was decided to focus solely on male minors and adolescents, aged 15 to 20, in camp Moria. In these groups, I could sometimes implement songwriting sessions during the regular Connect by Music sessions. In these sessions, I worked with colleague Lore Smits. First, the boys were asked who wanted to participate in songwriting. They could register for the next session. Not everyone always showed up the next session. If other boys were interested, they could participate as long as the group existed up to six persons. This was because of group dynamics and the time limit of three hours. Also, every language had to be represented by someone who could speak English, so that communication during the process was possible. Eventually, 35 songwriters have participated in total! Some of them wanted to participate again after the first time, and were seen as new participants in the research. This resulted in a total of 47 participants. Of these participants, no fewer than 84% came from Afghanistan. The other countries of origin were Pakistan (4%), Ghana (4%), Syria (2%), Sierra Leone (2%), Guinée (2%) and Nigeria (2%).
The beginning of a session
The sessions took place in a classroom (iso box) in camp Moria. It was furnished with some chairs and tables and sometimes a whiteboard. The sessions started with explaining the process and filling in the consent forms and personal data forms. These were available in four languages: Farsi, Arabic, French and English. The boys had to give permission to gather personal data (age, origin, lyrics) and to make audio recordings. After that, I asked them to write down an answer to the question: "What is important to you right now?". This question had to do with my research question: "What do refugees express within songwriting?". They could all write it down in their own language. Some wrote one word, others a whole page.
Forming a song
After everybody had written something down, it was shared in the group. I wrote down their ideas on a whiteboard to get an overview. These conversations were interesting, because some boys found recognition in someone else's story. After this, a structure was made of all the text, to make it into the lyrics of the song. Is there a global theme or are there more various themes? Are some pieces suitable for a verse or maybe a chorus? This is how, together, the structure was made. It was also decided who would start and who end the song and who wanted to rap, speak or sing. The music was made with the app GarageBand on the iPad. This technology made it possible to create music and record in a relatively short time. We started on the iPad with finding a beat ("Do you want an electrical beat, acoustic drum kit or percussion instruments?') and built the musical base from there: What is the mood of the song? What tempo fits the best? Which instruments have to be in there as well?
If someone wanted to record live guitar, that was possible as well. It was important to consult with each other, face problems and solve them together. In some groups different cultures came together and it was nice to see how they had conversations with each other about the music.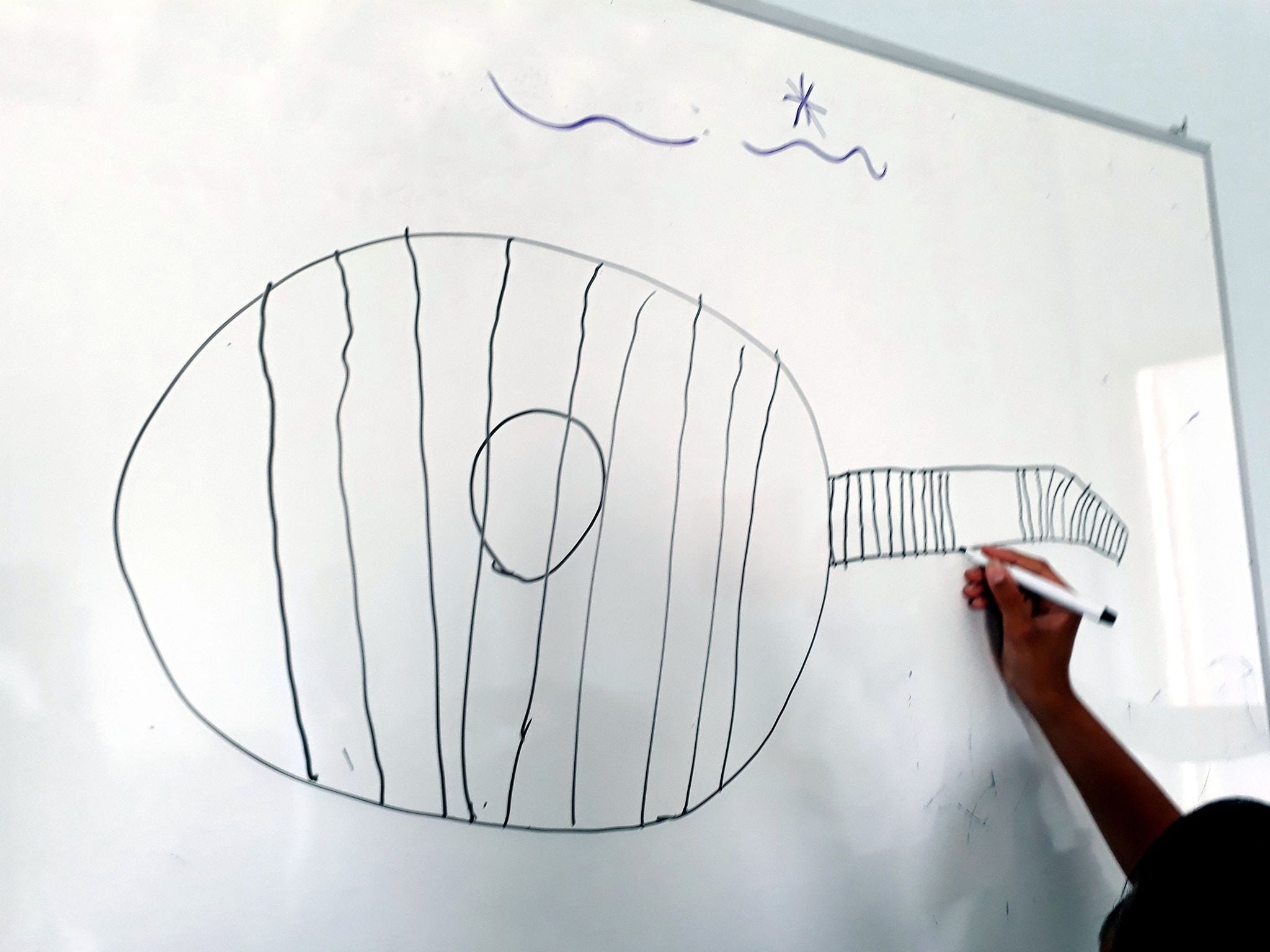 Recording
When the musical base was somewhat set, de microphone was put on the table. Some boys became very enthusiastic at this point, others very nervous. First, I let them get used to hearing themselves through a mic and headphones. They could also practise their piece first. A difficult thing for the rest of the group, was keeping total silence during the recording. Not everyone had the concentration or patience to do this. Also, complete silence in a refugee camp is almost impossible. When recording the songs in Lesbos, it was winter. This meant that the heater was on almost all the time, which you can hear on some recordings (like song 3 on the album). Sometimes there were kids playing outside or a door was slammed which was also audible on the recording. This also has its charms, in my opinion.
It was scary to do for most of them, but when the first songwriter made the first step, the rest followed.
And then?
When everyone had recorded their piece, we ended the session with finding a title and with filling in the evaluation forms for the research. I took the recordings home and finalized the song there. Most of the times, the song existed of loose puzzle pieces that had to be put together in the structure that we made. In some songs, the boys wanted something extra like strings or our voices. This was done at home too because of time limitations. The days after the session, the boys would often ask: "When is my music finished?". And when it was ready, I took the song and we listened to it with the whole group. Some boys found it strange to hear themselves and some were enthusiastic. When they approved of the song, I send it to them via e-mail. This was an important part of the process, because I could literally give them something. A product, their product. In total, ten songwriting sessions took place and ten songs came out of these sessions. These songs are brought together on the album 'Songs of Moria'. After returning from Lesbos, Justin van Brussel mixed the songs. Together with Lynn Rouwhorst, the art work was made and this is how the CD came about. If you don't have the album yet, but you do want it, click here to order it within the Netherlands. Contact me if you want to have it shipped outside the Netherlands. Like the Songs of Moria Facebook at the bottom of this page for updates on the research or stories about the songwriters.
-
My name is Digna Huinink and I am a music therapist. In 2018 I volunteered for the first time with NGO Connect by Music as a music therapist in Lesbos. This experience was shocking and beautiful at the same time. How are these inhumane circumstances in a refugee camp possible at only a three-hour flight distance from home? The beautiful thing was the joy, solace, hope and connection the music brought to these people.
Music therapy
Music therapy in general is a form of treatment where music is used to help people with a certain need for care. When working in a refugee camp, music is used to connect people and build a community, to offer pleasure, distraction and relaxation, to find meaning and to stimulate self-esteem and self-expression e.g.
Master of Music Therapy
During the volunteering in 2018, I decided to do the master of Music Therapy at ArtEZ University of the Arts in Enschede. In 2017 I had completed my bachelor's degree there already. I went back to Lesbos in January and February 2019 to do research as part of the master. It was focused on songwriting with male minors and adolescents in refugee camp Moria. I wanted to find out what they would express in therapeutic songwriting, the writing of songs within a therapeutic context.
Research
Ten songs came out of this project which were translated for this research. The lyrics were analyzed which resulted in themes and categories. One of the outcomes is that the boys wrote mostly about negative feelings and their families. With these outcomes I wanted to gain insight into the feelings and thoughts of the refugees and into the functionality of songwriting as a music therapeutic intervention used in a camp.
'The refugee experience'
Everything came together in the benefit concert I organized first of June 2019 for the course 'Community Music Therapy & Leadership'. The goal of the event "The refugee experience: a benefit concert" was to create awareness in society by letting the audience crawl into the skin of a refugee through different forms of art (music, story, poetry and decor). Besides, money was raised for NGO Connect by Music.
Future
With this album, I hope to keep spreading awareness about the situation, but also the thoughts, feelings and talents of these boys. If you are interested in a songwriting workshop or in such a project, contact me through this website. You can also watch a short video here about the project, that Studio Collector. made during the ArtEZ Finals. Like the Facebook page below if you want to stay informed of the album and the project!
'Mind the mind now'
Songs of Moria was, together with Connect by Music, at the 'Mind the mind now' conference in Amsterdam, October 2019. This conference, about the importance of mental health and psychosocial support in crisis situations was organized by the ministry of Foreign Trade and Development Cooperation and hosted by Minister Sigrid Kaag. The Connect by Music team showed the guests how we give mental support through music to refugees in Greece. Songs of Moria copies were handed out to guests, including the minister herself and Queen Maxima. Watch here how our ambassador Aeham Ahmad hands out his book and a copy of Songs of Moria!